Novels
Among my novels you will find historical crime, like the popular Euphemia Martins Mysteries series, and even romance. I do deal with serious themes, but I do my best to mix light and dark. I've never been one to enjoy unrelenting strife in a story, and so I generally shy away from creating them myself.
A DEATH IN THE FAMILY (Euphemia Martins Mysteries Book 1)
Christmas 1909 and the Very Rev Joshia Martins inconsiderately expires in a dish of mutton and onions, leaving his family on the verge of destitution. Abandoned by her aristocratic grandfather (who never forgave her mother for marrying into the clergy) eighteen year old Euphemia girds her loins and takes a position as a maid in the notorious Stapleford household. Then on the first day she discovers a dead body. Worse than that she ends up dragging it, by the leg, across the floor at the behest of the daughter of the house. Needless to say the police are not impressed.
Concerned that she will damage her mother's last treasure, her reputation, Euphemia gives a false name and sets about investigating the murder before the police can investigate her. Blessed with an innate sense of justice and a highly inappropriate level of intelligence, Euphemia unearths secrets both upstairs and down, frequently putting herself into situations of moral and earthly peril.
A DEATH IN THE HIGHLANDS (Euphemia Martins Mysteries Book 2)
Euphemia's arch enemy, Sir Richard Stapleford, is back to his cunning ways having eluded the noose. Having been temporarily promoted to housekeeper, Euphemia finds herself catering to a strange group of house guests in a remote Scottish lodge. The arrival of the devastatingly handsome new butler, Rory McLeod, lifts her spirits and sets her at odds with Richard's brother, Bertram, her only ally above stairs. And then of course, things all go disastrously wrong. Revolting peasants, suspected violent Bolsheviks and mysterious men from the ministry must all be dealt with before Euphemia has any hope of bringing justice to bear.
A DEATH IN THE ASYLUM (Euphemia Martins Mysteries Book 3)
Euphemia's temporary employment on Bertram's exceedingly soggy estate in the Fens is brought to an abrupt halt when the kitchen floor crumbles. But she is barely returned to her old stomping ground, Stapleford Hall, before a mystic warns that death is following her. Is if that wasn't enough Bertram has got himself entangled with a lady from the press, who is out to catch more than just a good story - she wants Bertram as her own. When she leads Bertram off to investigate a mysterious asylum, it's up to Euphemia to rescue him from both scheming spinsters and murderous medics.
A DEATH IN THE WEDDING PARTY (Euphemia Martins Mysteries Book 4)
Despite her unfortunate resemblance to her horse, Lady Richenda Stapleford, has accepted an offer of marriage. Euphemia too has finally accepted her beau. But the course of true love never runs true. When a member of the wedding party is murdered suspicions are abound. As a devilishly dire situation develops it is left to Euphemia to try and discover the truth, using only her quick wits and piercing scream.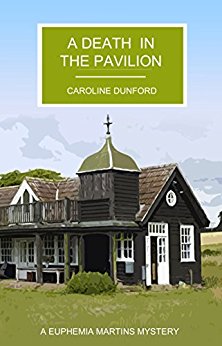 A DEATH IN THE PAVILION (Euphemia Martins Mysteries Book 5)
The fifth book in the series sees Euphemia promoted to companion to the odious Richenda Stapleford, who has taken refuge on the estate of the banker, Hans Muller. Almost the very moment Richenda decides that Muller is the man for her (even if he doesn't know it yet), her scheming brother sends a dire warning about Muller's misdeeds.
For both their sakes Euphemia finds herself in the unusual situation of investing a murder, possibly murders, with all the bodies long buried. It isn't long before delving into the past pitches Euphemia, Bertram and Richenda into mortal danger.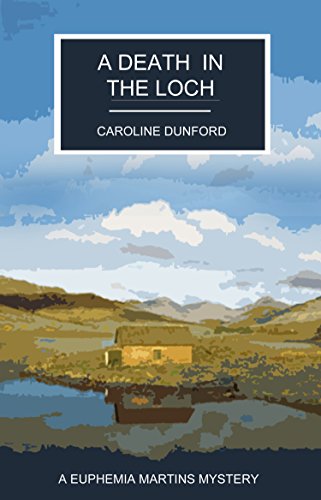 A DEATH IN THE LOCH (Euphemia Martins Mysteries Book 6)
Military secrets, foreign spies and who is the real Mister Smith? Euphemia, back in a maid's costume once more, must host a Christmas party in the Highlands arranged by the slippery spy Fitzroy. Along with Bertram and Rory, she is forced to sign the first edition of the Official Secrets Act, but when the trio discover what the government is proposing they are set at each other's throats. As if that wasn't enough more and more Mr Smiths keep appearing.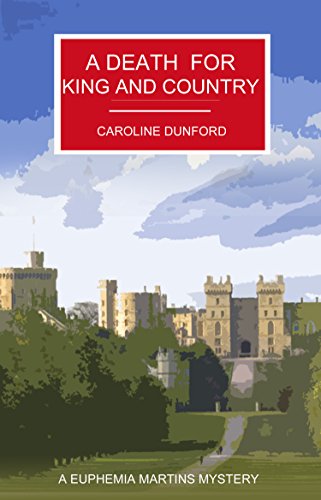 A DEATH FOR KING AND COUNTRY (Euphemia Martins Mysteries Book 7)
The sinking of the Titanic has personal implications for our heroine. Aboard the RMS Carpathia, Euphemia is among the first to help the survivors of The Titanic. The depth of the tragedy is staggering, but Euphemia has little time to comprehend what has happened when the Captain summons her with a wire from London. She is tasked with discovering if the spy, Fitzroy is among the survivors – or the dead who are collected from the sea.
Understandably hesitant to do such gruesome task, Euphemia does her duty and can discover no sign of Fitzroy. She returns home with the Mullers, shaken, but believing that side of her life is over. But then she receives a letter from beyond the grave that launches her on an incredible journey.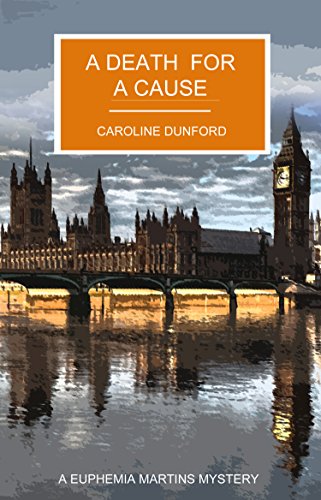 A DEATH FOR A CAUSE (Euphemia Martins Mysteries Book 8)
When Richenda takes Euphemia to London promising visits to the Zoo and afternoon tea, the last thing she expects is to end up getting arrested. But some nifty action during a police raid on a suffragette march sees Euphemia dragged off to jail. Richenda, of course, manages to slip away.
For once Euphemia is relieved to see Fitzroy, thinking he has come to rescue her. However, he tasks her to figure out which of the women in her cell is the murderer of a high ranking official. This seemingly impossible task becomes all the more urgent when one of Euphemia's cell mates is murdered.
With Richenda and Bertram working on the outside and Euphemia trapped in a cell with murders, they have to work this mystery out fast, before Euphemia becomes the next victim.
A DEATH BY ARSON (Euphemia Martins Mysteries Book 9)
Hans Muller is forced for mercenary reasons to attend Richard Stapleford's New Year Eve party in his new Scottish Castle. He takes Euphemia, Richenda, Bertram and McLeod with him. But upon arrival they discover that Richard has a rather large surprise up his sleeve.
Bertram might be distracted by the latest motor automobiles and Richenda in seeking the perfect cake to match her mood, but Euphemia is neck deep in blushing brides, ghost stories and faces from the past. And then someone sets light to the castle and not one, but two bodies are found. One old, one new – it is up to Euphemia to unravel the knotty mystery and avoid Richard pinning at least one of the murders on her!
A DEATH OVERSEAS (Euphemia Martins Mysteries Book 10)
Euphemia has accepted an invitation to Exposition Universelle in Ghent, Belgium – which unbeknown to anyone would be the last great gathering of the greatest minds of the time before the world plunged into World War I.
This time escorted by her own chaperone, Mrs Brown, Euphemia and Bertram revel in the glorious exhibits on display – and in Bertram's case also in the tea rooms. Nothing can possibly go wrong – until Mrs Brown is found dead with a confession that she is a terrorist, devoted to destroying science. Unable to believe this, and not wanting to be accused of transporting her into the country, Bertram, Euphemia and Rory, attempt to dig up the truth. Only to uncover yet around murder among the whitewashed villas of the Exposition.
A DEATH AT CRYSTAL PALACE (Euphemia Martins Mysteries Book 11)
With the world hanging on the precipice of war, Euphemia learns that threats also lurk on a far more personal level…
When Richenda Stapleford accepts what she believes to be an olive branch from her dangerous and scheming brother, Richard, Euphemia can't help but feel that it's just another act of treachery waiting to unfold. Buying into this uncommon act of kindness, Richenda goes against the wishes of her husband and takes their children to an event at the Crystal Palace, along with Euphemia, Bertram and Rory.
As Euphemia learns that the British spymaster Fitzroy is also there, along with an important German delegation, the pieces fall into place and she realises that the implications are dire, both for the future of the Stapleford line and the world at large.
A DEATH AT A GENTLEMAN'S CLUB (Euphemia Martins Mysteries Book 12)
In the run up to Christmas 1913, Euphemia's stepfather, the Bishop, proposes a family lunch at his club.
Bertram, who is staying with the Mullers, runs her up to town in his car. He decides to let Euphemia confront her family alone before introducing himself as her fiancé. He retreats to the Billiard Room only to be summoned when a murder occurs.
The members are very reluctant to call the police and Bertram is asked to sort out what actually happened before the police arrive. He enlists Euphemia's help, to her mother's shock and, to everyone's surprise, the Bishop's approval.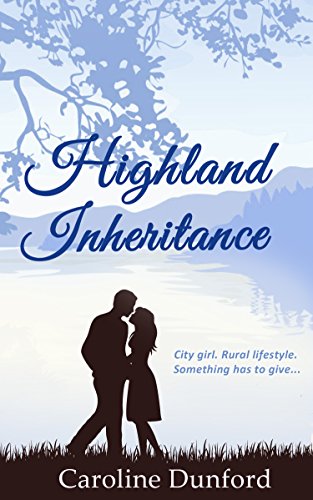 HIGHLAND INHERITANCE
City girl, Lucy McIntosh, unexpectedly inherits a huge, rundown hotel in the highlands. Determined to sell this tumbledown wreck and return to her job in a go-getting Edinburgh Ad Agency, Lucy is knocked sideways when she falls in love with the Highlands and The Mormaer Inn. Determined to restore the inn to its former glory, and also to prove to her loving, but patronising boyfriend, Jake, that she can achieve something on her own, Lucy is quickly beset by a myriad set of problems. She needs money for restoration. The local staff hate her. But worst of all the local landowner, the taciturn Graham Sutherland, is determined to have the hotel for his own. Lucy has the fight of her life on her hands and a learning curve steeper than mountains the surround the Inn. Will the challenge prove too much for her, or will this wild, rugged setting show what she is really capable or and even what is the true meaning of love?
PLAYING FOR LOVE
With a childhood haunted by tragedy, reclusive novelist Annie Greig is much happier in the worlds she creates than the real one. But when her tenth novel becomes an unexpected best seller she is catapulted into the chaos of the Edinburgh International Fringe Festival as she insists on writing the stage play herself. She is deeply in love with Cesare, her fictional, handsome, playboy hero, and cannot bear the thought he could be either cast or badly written.
What she doesn't expect is to meet him in the flesh. The actor cast as the lead is exactly how she has always imagined Cesare and, what's more, he's falling in love with her. But in the world of the theatre, where acting is a way of life, is everything what it seems? Will Annie finally find her soul mate or the cruelest trick of all being played upon her?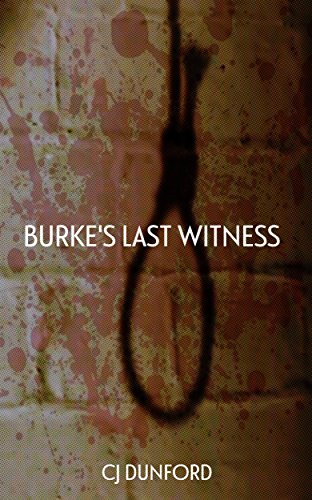 BURKE'S LAST WITNESS
Burke's Last Witness is a poignant haunting psychological drama which delves into the mind of notorious serial killer William Burke as he awaits his execution. Using accounts from his 2-day trial in 1828, this telling of the story will challenge the common perception about who the main protagonist was in the deadly partnership between William Burke and William Hare.
Burke is not a simple retelling of the duo's 16 murders. Set in the death-cell of cold, dank Calton Jail days before his execution in front of 25,000 people, Burke languishes with only his jailor Captain Rose for company.
This chilling novella follows the last few days of Burke's life as he awaits his public execution. Chained and racked with cancerous tumours Burke unburdens himself to the honourable Captain Rose who strives to understand why these two men committed such atrocities.
Burke's Last Witness is an novella developed from the popular play (also written by CJ Dunford) which has toured widely and to great critical acclaim.